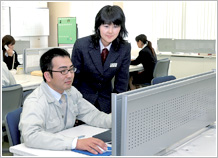 It's our corporate stance, which says that whatever we do for each and every one of our customers, we get the job done. We call this approach "Tokoton-Ism," from the Japanese word tokoton, which means "from start to finish." Whatever has to be done, gets done - without fail, right to the very end. That's the philosophy that all of us at Meiwa strive to embody. We feel this way because we know that there are some results that just can't be achieved and there are some destinations you just can't reach unless you know how to get the job done. Even more than our products and facilities, what we would like you to remember about Meiwa Industries is our corporate stance of Tokoton-Ism.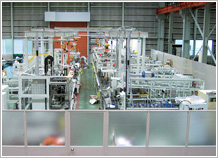 Tokoton-Ism is something that we carry out no matter where or what we do. Not only do we implement the 5S principles of organization in every worksite as a matter or course, to ensure confidentiality during new development, we use partitions on the factory floor to compartmentalize every machine under development, and have also installed special lockers in which mobile phones are placed before their owners enter the factory. All staff members of course also receive comprehensive training in compliance, and we strive to live up to our corporate responsibilities in terms of both systems and personnel.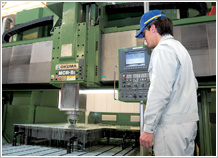 We don't think of ourselves as simply a manufacturer of specialized equipment. Rather, we contribute the expertise that enables our customers to streamline, modernize, and economize their production facilities. Starting with project planning and continuing all the way from design and fabrication to installation, trial operation, maintenance, and renovation, we provide the support that manufacturers need throughout the entire life cycle of their production facilities. Answering your needs at every stage, start to finish - here, too, our Tokoton-Ism is in full play.